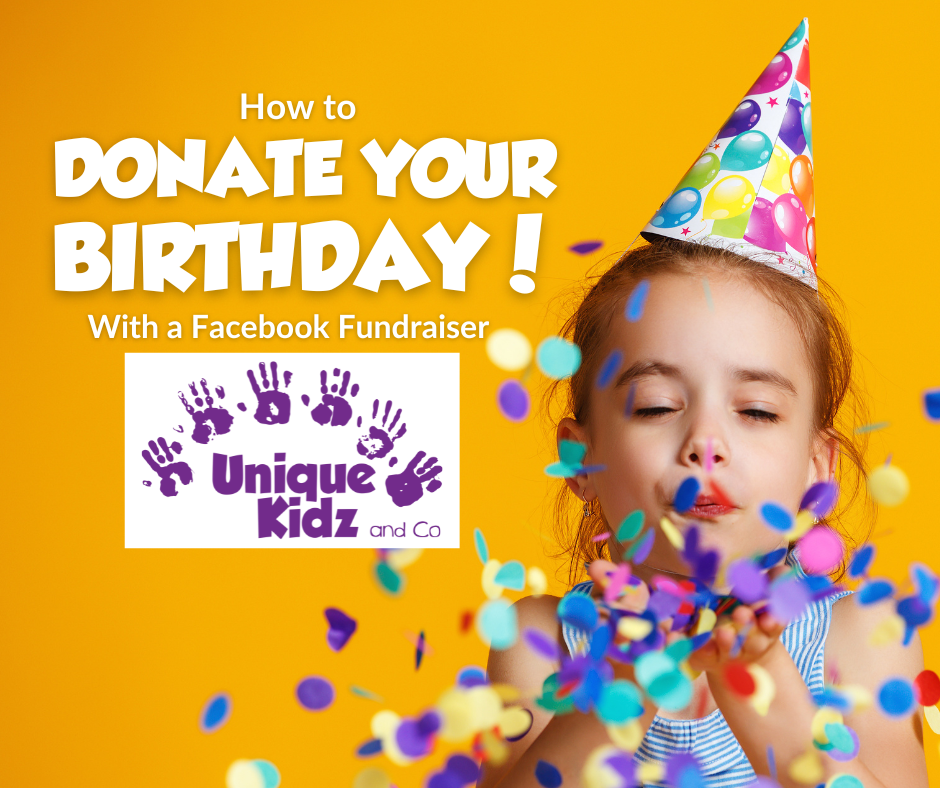 Thank you so much for considering supporting Unique Kidz & Co via Facebook Donate! This is a great platform to raise money by asking your Facebook friends to donate for a cause, an event like your birthday or a challenge you are doing. Your friends give their donation to Facebook, and the Facebook donate it to us completely free of charge. Here is a guide to help you set up a fundraiser on Facebook.
Step 1
Log in to your Facebook page and search for "Unique Kidz & Co" and click on our page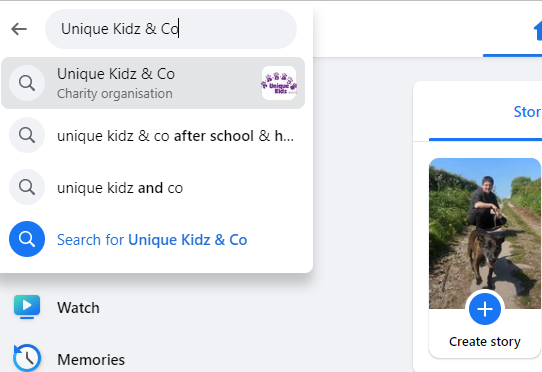 Step 2
When you are on our page, click on the "Fundraisers" tab. Here you can see all the other people fundraising for us. To start your own fundraiser, click on "Raise Money" on the right-hand side

Step 3
Here you can set how much you would like to raise, when you would like your fundraiser to end and what you would like it to be called. If it is for your birthday, you are doing a challenge or putting on an event then we highly suggest you edit the title, so your friends know what they are donating for. To give your friends enough chance to donate we would recommend starting your fundraiser a week or two before, and ending it a week or two after your birthday.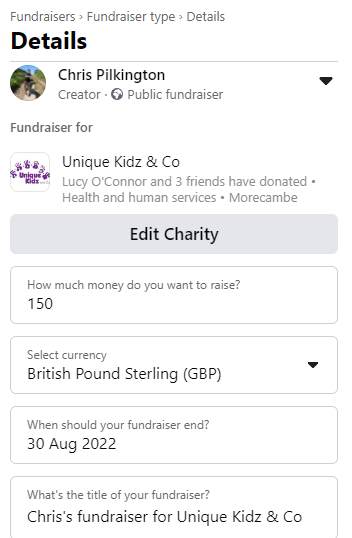 Step 4
Tell your story by editing the text in the "Why are you raising money?" box. This isn't compulsory but adding a personal touch with a story as to why you have chosen to donate to us may help to encourage your friends to donate. You can also select a different cover photo if you would like or stick with the default photo featuring some of our young people enjoying the service.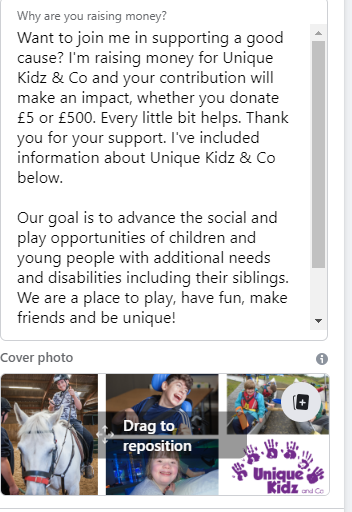 Step 5
Preview your fundraiser in either desktop or mobile view. This helps you see what your friend's will see and make sure it is exactly how you want it to appear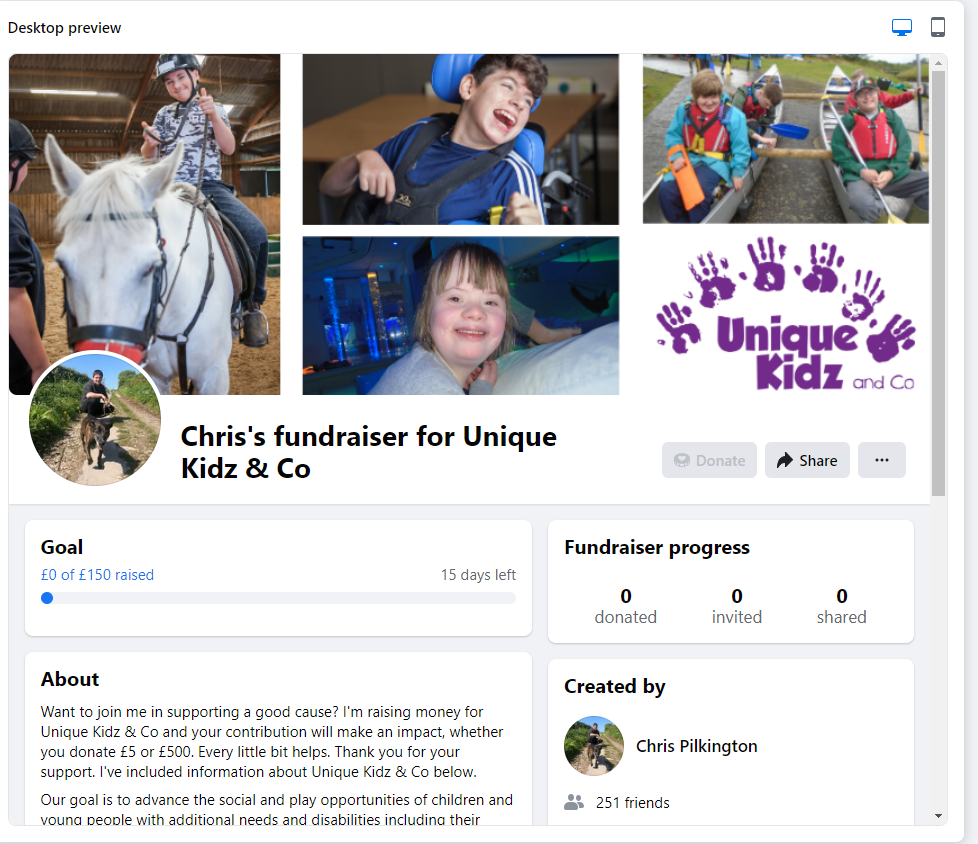 Step 6
Create your fundraiser by clicking on "Create." This will make your fundraiser go live and people can start donating straight away! Facebook automatically posts it to your page and your feed so that your friends can see it, but don't forget to keep sharing it throughout so that more people can see it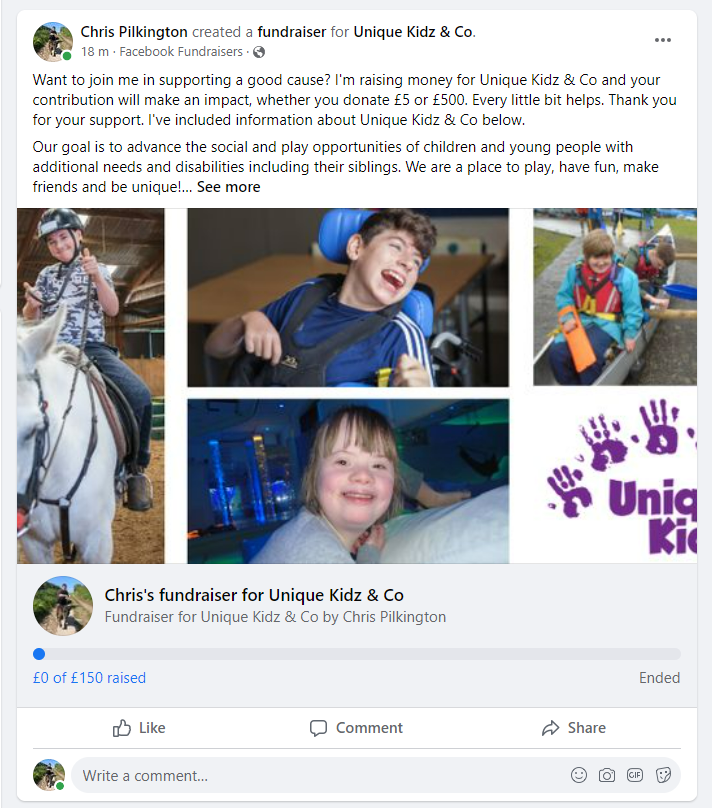 Step 7
Facebook will notify you when someone donates so it is really important to keep checking those notifications. When someone has donated you can leave a comment to say thank you and share it to encourage more donations.
Step 8
That's it! Once your fundraiser comes to an end on the date you have selected, Facebook will donate all the money you have raised directly to Unique Kidz and Co, you can relax and know that you have helped us to continue supporting disabled children, young adults and their families. Thank you so, so much. Your support means the world to us and our young people!