The Platform, Morecambe
28th September @ 7:30pm
Buy tickets here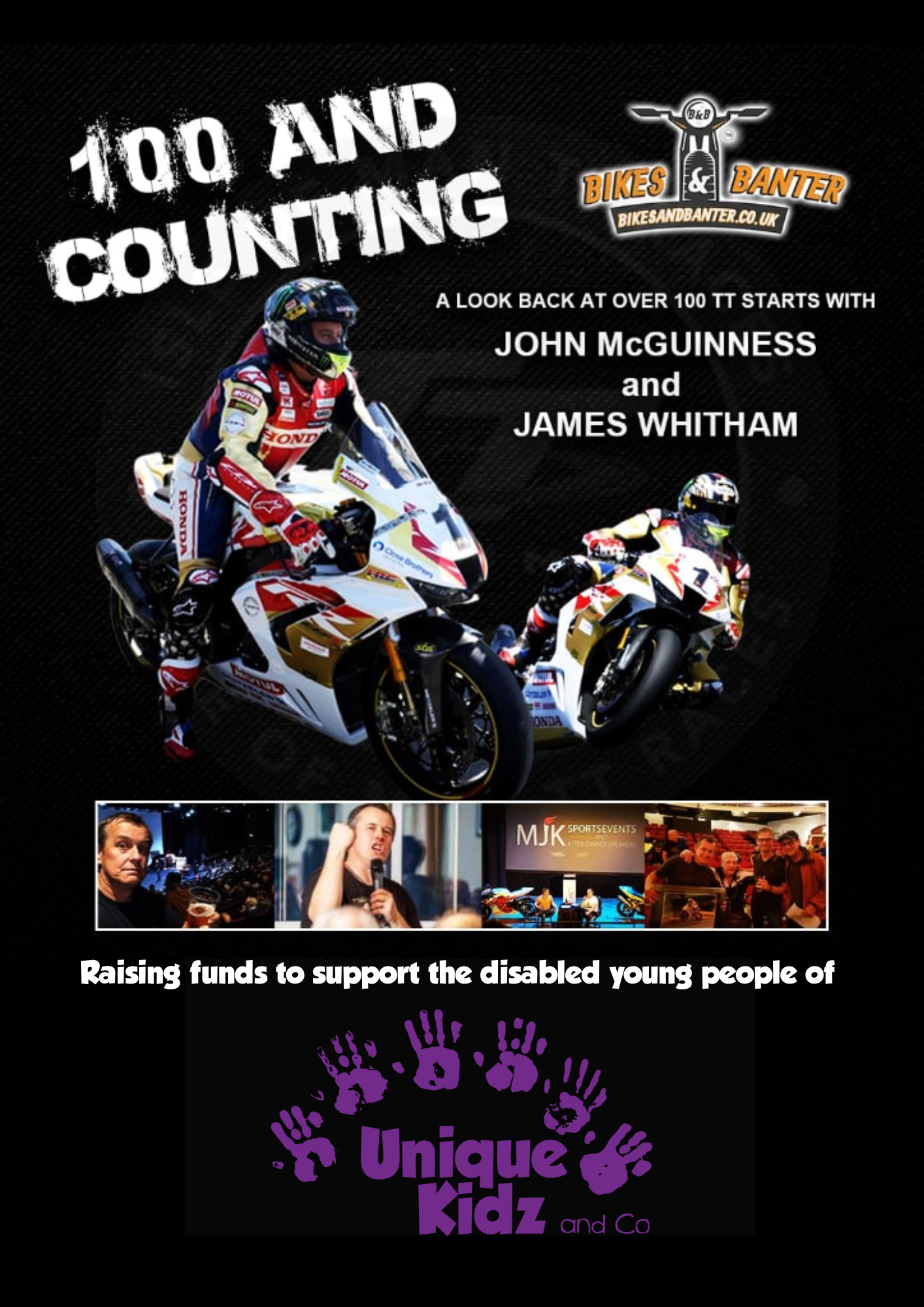 Ladies and Gentlemen,
Unique Kidz and Co and Bikes and Banter are proud to bring you.
100 and Counting, a look back at 100 TT starts with John McGuinness and James Whitham.
John McGuinness is simply the god of TT racing.
A complete legend of the sport who amongst other achievements holds the mind-blowing record of an amazing 23 wins round the Isle of Man track. Superb on stage and to coincide with his MBE, his 50th birthday and his 100th TT start you will get to hear it all from the man himself. It is delivered exactly as you would expect, uncut with no frills with lots of humour. John is the last man out of the event, and he always hangs around and meets everyone at the end of the show a real fans man, this event is your chance to hear it all from the man himself and also to meet him.
James Whitham
Bikes and Banter have had the pleasure of working with James for a few years now and he is the man who brings this event together. A veteran presenter nowadays his rapport with John is hilarious (LOOK AT THE PAST REVIEWS) James was a world class racer in his own right winning and gaining podiums in amongst other things the World Superbike Championship.
Bikes and Banter and Unique Kidz and Co are extremely privileged to bring you the exclusive opportunity to hear the fascinating tales of these special men as they exclusively open up about momentous achievements at the top level of motorbike racing as well as letting us know about plans and targets for the season(s) ahead. We promise it is NOT TO BE MISSED.
This event receives rave reviews wherever Bikes and Banter have taken it. Ask anyone who has attended!
Part One
John McGuinness Interview –  A look back at 100 TT starts and 23 TT wins.
Interval and Auction with the chance to win some unique memorabilia
Part Two
A Lap of the TT – With on board commentary by John and input from James
Audience Q&A
Proudly Sponsored by our friends at Fletchers Group 
Venue Information
The Platform, Station Buildings, Marine Road Central, Morecambe LA4 4DB
DRESS CODE IS CASUAL