Hello! Grab a cuppa and catch up on our latest news and announcements!
New Announcements
It has been a week of announcements for everyone at Unique Kidz and Co starting off with Lancaster on Ice! We are so happy to be one of the charity partners of such an exciting event for Lancaster and as part of this we have announced two dates for our "Unique Skating Sessions!" Our sessions, kindly sponsored by Mazuma Mobile, are especially for disabled children and young adults to enjoy the ice with their families. Tickets can be purchased from www.uniqueskatingsessions.eventbrite.co.uk – the sessions will have limited numbers to ensure everyone has the time and space on the ice that they need so please book early to avoid disappointment!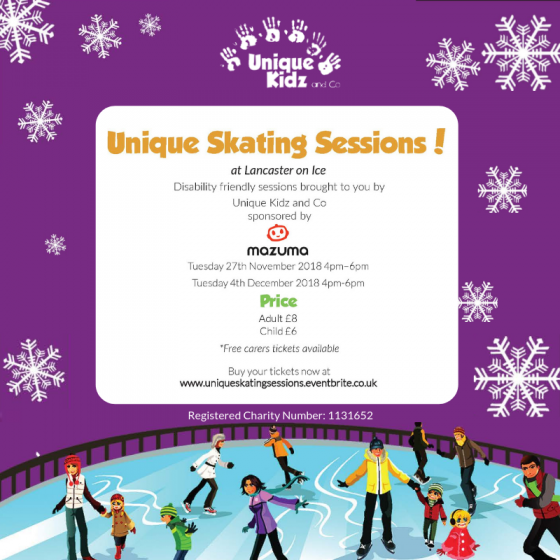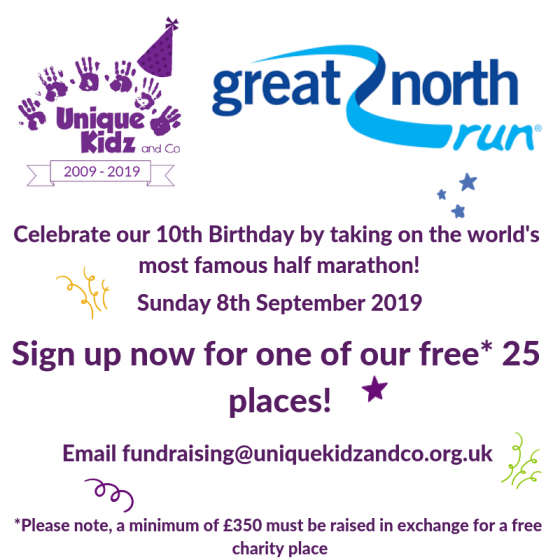 The second of our announcements is that once again we have 25 charity places for the Great North Run 2019! Next year is our 10th birthday so why not take on the world's biggest half marathon to support us! We can offer a free place in exchange for a minimum of £350 sponsorship. If you would like more information please email fundraising@uniquekidzandco.org.uk or call Jordan on 07733 102202.
Also, we are working with Born Survivor once again! We can offer teams or individuals free places for the event in Manchester at Capesthorne Hall on Saturday 11 May 2019 in exchange for raising a minimum of £100. Take on the 5km or 10km challenge for our 10th birthday whilst getting muddy and having lots of fun!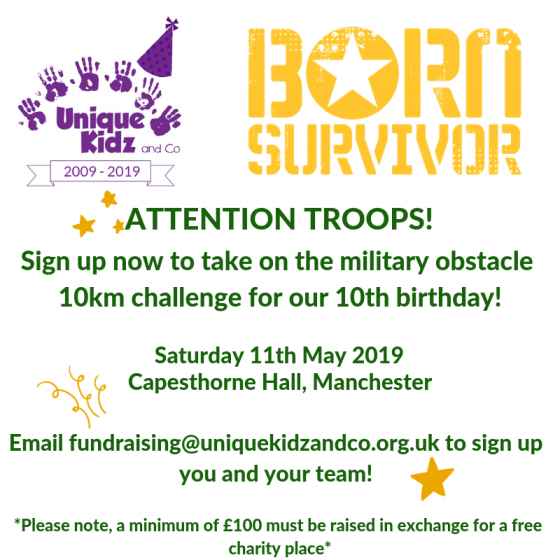 This week we were kindly invited along to a Year 8 assembly at Carnforth High School where we were presented with a cheque for £1169.44! A huge thank you to all the students who took part in the sponsored walk earlier on in the year – it was lovely to come and meet some of you!
We had two different visitors on Friday –  one to 4Ever Unique and one to Unique Kidz and Co! Hayley from Asda came along to bake bread with the young adults. They enjoyed the bread with homemade pumpkin soup! Afterschool club had a visit from Danceabled on Friday night which was brilliant!
Have you seen our latest newsletter? You can read it here and don't forget to click subscribe in the top left hand corner to sign up to our mailing list whilst you are there!
4Ever Unique Update
Finally, the young adults in 4Ever Unique are going to be busy over the next few weeks. They will be making Christmas Wreaths but they need your help! We are looking for donations of materials that they can use to make the wreaths. If you know of any gardeners or garden centres who would like to help please call 01524 831132. They would love your help!