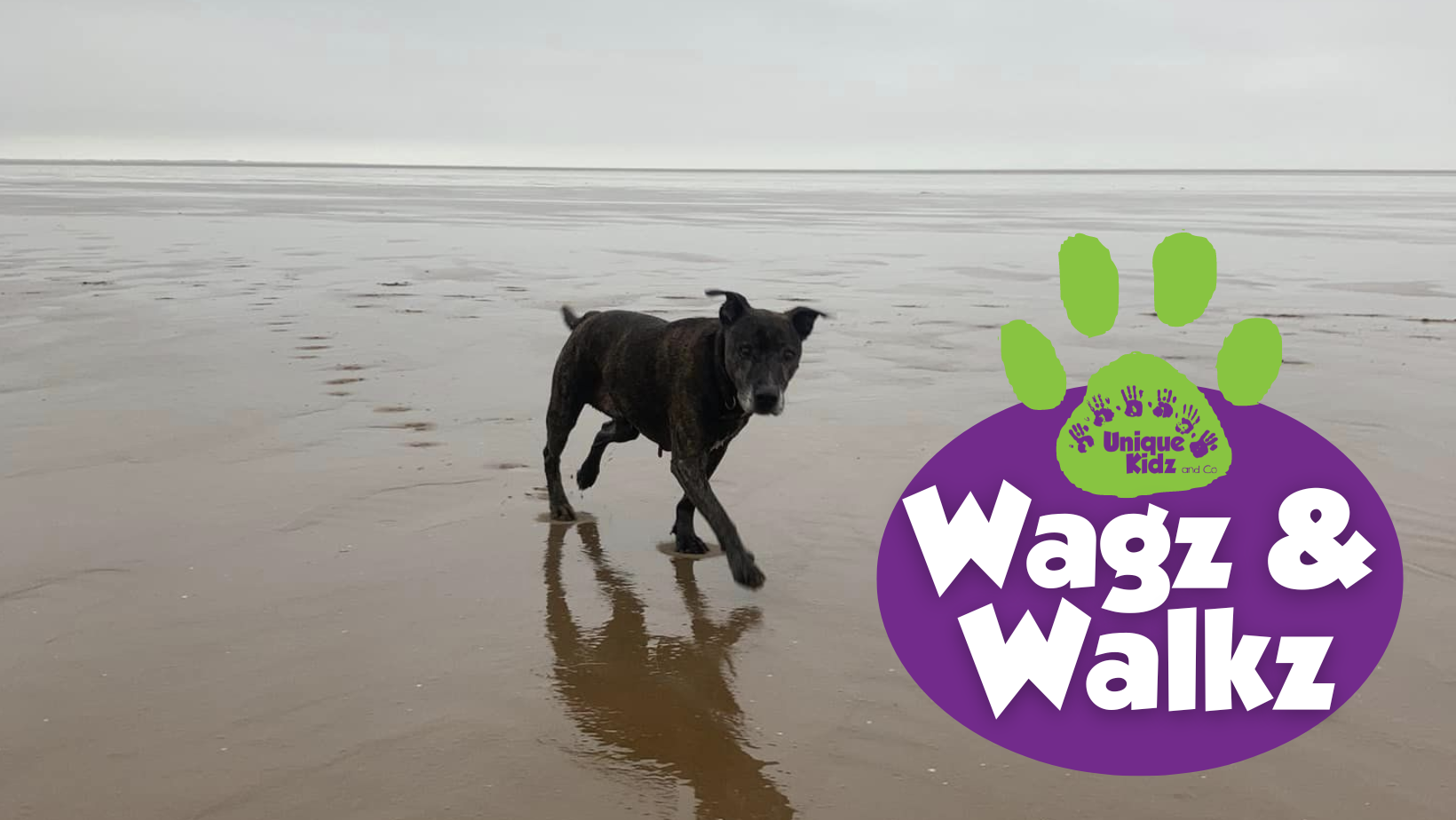 What is the Wagz & Walkz challenge?
Dog lovers who sign up will be tasked with walking 50 miles over the month of March, share their progress and collect sponsorship and donations for Unique Kidz & Co.
We ask for each dog (or dog pack) to create their own Facebook Fundraiser page within our Campaign, here, they may need a helping human hand of course. We would like you to aim to raise £50 but anything you can raise during the time will be an amazing help.
Please share your dog's page and progress, updating us and your friends along the way and encouraging more donations. Facebook is particularly helpful at sharing and raising more donations.
Everyone taking part can join the Wagz & Walkz Facebook group to share photos and updates of their dogs and walks.
If you do not want to fundraise via sponsorship, then that's no problem! We would really appreciate a donation to either other dogs you know or to Unique Kidz & Co directly.
The Wagz & Walkz challenge can be as flexible as you, or your pooch need to be! Take as long as you like, start early or finish later, or even take longer than month! Just complete the 50m at a pace that suits you and your wonderful dog!
Everybody who signs up will be sent a sponsorship pack which includes;
A Wagz & Walkz bandana(s) for your dog(s) – perfect for photo updates throughout the challenge!
A helpful guide to setting up a Facebook Fundraiser
A paper sponsorship form for any cash collected
An information sheet with tips, FAQs and a distance tracker
Packs can be delivered or collected from Unique Kidz & Co
When you complete the 50 miles we will send your dog a customised certificate
Wagz & Walkz FAQs
Here are some frequently barked questions on the challenge, if you have a question that isn't answered below please contact our fundraiser, Chris, here.
How do I track how many miles my dog and I have walked?
The best way to track your mileage is by using your smartphone. iPhones and Samsung's have preinstalled 'Health' Apps that track your steps and distance you have walked. Strava and Map My Walk are also great apps that provide you with a graphic overlay on a map that show you where you and your pooch have been, these are great to share on your Facebook page! If not, you can always have a look on a map (digital or printed) to calculate your distances.
We will also send you a paper tracker in your pack so you can tot up your daily miles.
Do I have to prove I have walked the 50 miles?
No, but you can if you like! We can't wait to see updates of your dogs taking on the challenge, so if you would like you can post them in the Facebook Group and on your Facebook Fundraiser page.
How do I keep my dog healthy and happy during the challenge?
The most important thing to consider when taking on the challenge is making sure you and your dog are safe and happy throughout. We hope that this challenge will help you and your dog take a little bit longer walk every now and then, but every dog is different and will need different amounts or types of exercise. Age, health issues, shape of face, length of body/legs and other issues can all be factors in deciding if your dog can complete the 50 miles over the month. Please always check with your vet if you have any concerns.
If you, or your canine companion can't complete the challenge for any reason, we are sure your friends won't mind if you extend the dates to complete it, reduce the distance, or complete some of the distance on your own. We certainly won't!
Thank you for taking part in the Unique Kidz and Co Wagz & Walkz challenge!
If you have any other questions or would like to know more, please email Chris or post a question in the Facebook group.
If you are ready to register your dogs, please fill in the form below!